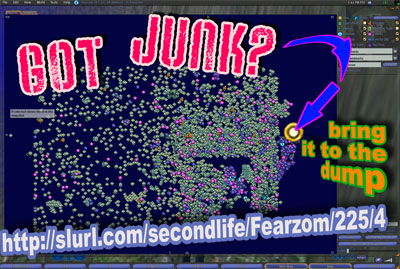 image by eteam
Jan.20,2008
Today when we arrived at the Dumpster site, we found it covered with gambling
machines by Rodenbach Oyen. When we sent him an IM, asking him to apply the
decay script, he returned right away and started taking his machines off.
- insert L$5 to start the game -We thought the machines he had left were some sort of tetris inspired slot machines, but whenever we referred to his machines as slot machines he got angry.
Log Entries
• November 2007
• December 2007
• January 2008
Observations
• Lothar Apfelbaum
• The Camera Men
Waste Management
• Samples of Trash
• Automated Attempts